Sports Massage in Petts Wood
Welcome to Simon Tolsons' Sports Massage Clinic.
Sports massage is one of the most effective therapies to maintain muscle balance in the athlete. Muscle tension will always build up over time in training for a specific sport and part of an athlete's training should be rest and recovery in the form of sports massage.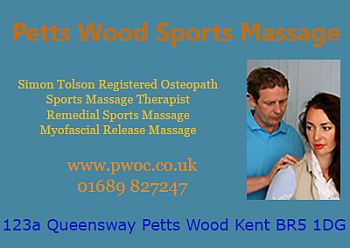 Here at Petts Wood Osteopathic Clinic I have over 25 years of sports massage experience working with athletes from grass roots right up to Olympians.
Injury prevention is key to improving performance too, anyone serious about their sport should be looking for ways to improve their performance and one of the key areas is to prevent a build-up of muscular tightness which can lead to muscle fatigue, muscle imbalance and even muscular tears and contusions.
Petts Wood Sports Massage Clinic Last updated 2018-01-01
Petts Wood sports massage, Orpington sports massage, bromley sports massage, bickley sports massage, chislehurst sports massage, sports massage clinic, keston sports massage
---