Having qualified initially in Sports Massage, I opened Petts Wood Osteopathic Clinic in 1994 after gaining my degree in Osteopathy from the British School Of Osteopathy. Since then I have developed the clinic to cover all aspects of Osteopathy and also several other disciplines to be complimentary to my work as an osteopath. I have a background in several sports, Athletics, Trampolining, Skiing and Swimming and have coached Athletics to National Level. This has given me a special interest in Sports Medicine and the Osteopathic care of sports injuries. To supplement my work here I gained a diploma in Sports Psychology in 2001 to help with both the athletes I was coaching and also to work as a Sports Psychologist.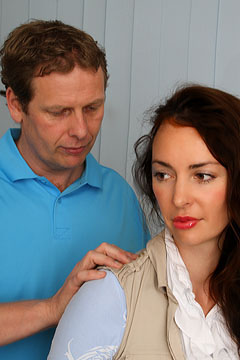 Within three years of qualifying as an Osteopath I was invited to teach at the European School Of Osteopathy both as a Clinic Tutor but also also asked to lecture on Sports Injuries. The ESO was the first British Osteopathic College to provide an undergraduate course for sports injuries, which I am proud to have developed. As a result of this I took a Post Graduate Certificate in Education at Greenwich University gaining a PGCE in 2001. As well as undergraduate teaching I also teach on the Masters Course and lecture internationally to both undergraduates and qualified Osteopaths.
As an additional qualification I undertook a Life Coaching Diploma qualification in 2003. Along with this I studied NLP (Neuro Linguistic Programming), which has been a great success for my work as an Osteopath, Sports Coach, Performance Psychologist, Hypnotist and my work in Education. Additionally I have gained qualifications in Acupuncture, Hypnosis, Yoga and Pilates. This has allowed me to be more specific with rehabilitation of injuries and back problems, provide alternative approaches to pain relief and empower patients to take more control of their situation.